Bears become bulls as strategists lift S&P 500 targets
Analysts play catch-up as stocks continue record run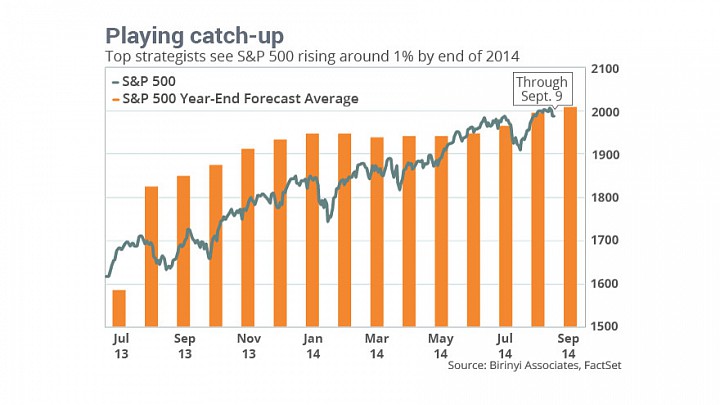 Some of Wall Street's biggest bears have turned into bulls, but top strategists still see room for only a modest rise by the S&P 500 index through the end of the year.
On Tuesday, Wells Fargo's Gina Martin Adams threw in the towel. Previously among the most bearish strategists on the Street with a 1,850 year-end target for the S&P SPX, +0.36% Adams, the bank's senior equity strategist, dropped her year-end forecast and replaced it with a 12-month target of 2,100.
She told CNBC she had spent much of the year expecting a "trade-off" for stocks, with earnings growth improving but the clock ticking down on the Federal Reserve's accommodative monetary policy. That's still the case, she said, "but quite frankly, earnings have started to take over," turning Fed-inspired volatility into potential buying opportunities.
Other strategists have also changed their targets. Deutsche Bank strategist David Bianco on Monday lifted his 2014 target to 2,050 from 1,850 and introduced a 2016 target of 2,300.
Bears turning into bulls could give sentiment-watchers a contrarian reason to question the market's upside potential. At the same time, Wall Street's most closely watched strategists have yet to turn into snorting, rampaging bulls, as noted by our colleagues at The Wall Street Journal's Moneybeat blog.
On average, the 15 top strategists tracked by research firm Birinyi Associates are now penciling in average year-end forecast of 2,010 versus an average 2014 prognostication of 1,934 in December 2013. In July 2013, the average end-2014 forecast was 1,585. The S&P topped 2,000 earlier this month but was trading around 1,992 midday Wednesday.
Among the strategists tracked by Birinyi, Barry Bannister of Stifel Nicolaus now holds the title of Wall Street's biggest bull with a target of 2,300. The next highest year-end target comes from RBC's Jonathan Golub at 2,075.
Holding down the low end of the range, Bank of Montreal's Brian Belski's target stands at 1,900.
"Despite the market's strength, we still remain comfortable with our now more cautious stance," Belski said in a note last week.
Belski argued that investors are underestimating the market implications of the end of the Fed's bond purchases while showing some complacency in the face of signficant geopolitical risks. Otherwise, "we would begin to change our minds if stock prices can prove they can remain strong against improving economic conditions and the associated higher interest rates that are likely to follow, while avoiding a major geopolitical shock," he said.
Article