Why the S&P 500 could gain another 10% from its previous high
It's official: The U.S. stock market's early-2018 correction has now been completely erased.
That doesn't resolve all issues facing investors, of course. The future remains just as unknowable as before. But the market's latest achievement does mean that we can no longer debate whether the January stock market highs represented the end of the bull market.
It most certainly did not. Someone who invested a lump sum in the stock market on Jan. 26 — the date of the early-2018 high — is now in the black. (This as judged by the dividend-adjusted Wilshire 5000 index, which represents the combined market cap of all publicly-traded stocks — see chart, below.)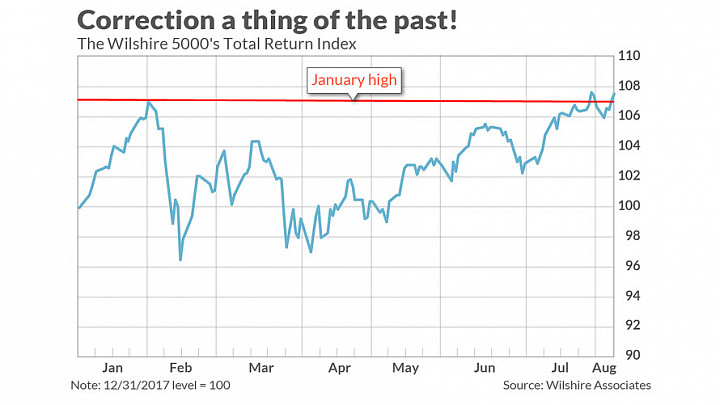 July 25 was the day on which the dividend-adjusted Wilshire 5000 index eclipsed its previous high, which means that the stock market spent six months in the purgatory of not knowing whether a new bear market had started.
Counting from the Feb. 8 correction low, the stock market's recovery time was five and one-half months. According to CFRA strategist Sam Stovall, this is only slightly longer than the five-month average recovery time of all corrections since World War II.